Monday, February 11, 2019
We are still here..
Hard to believe after all the trials and tribulations we are going into a new year.
We dont have nearly as many farmers left as we once did as many have moved on to other things..
The marketing of Freshwater prawn has proven difficult and only the farmers who do a lot of marketing
have survived..
2018 saw some of the farms raise some of the biggest prown ever and as usual a fast sell out..
We are taking orders now for 2019 if you are interested in starting your own freshwater prawn farm get in touch as we are also selling out fast and stock is limited.
4:15 pm est
Monday, May 20, 2013
New E-Course available How To Start Your Own Prawn Nursery.
We'll another prawn season is in the books and most of the prawn are residing in their new homes.
We still have a few prawn left to go out but for the most part we have delivered most of our orders.
One of the biggest things that is holding Freshwater prawn marketing and raising prawns back in the United States is the lack of nurseries. When farmers know that they can get their prawn locally more farmers are willing to try prawn farming. When we started our nursery there were 2 farmers in the state of Virginia. Now we sell prawn to about 14 farmers in the state of Va and NC. We move between 200,000 and 300,000 juvenile prawn out to farms annually. This is not a get rich or work from home all the time business but is a way to provide nice supplemental income if done right... Now notice last statement if done right. As you can see from the past we have had fires and all kinds of learning experience after 6 years anything that can happen usually will so you have to try to be prepared for anything. So that is why we are putting together this new training series on How to build a freshater prawn nursery.. This will not teach you how to hatch prawn. it will not teach you how to raise them to full size in tanks. This will teach you how to set up a nursey and to run your business for a few months and make money. It will be a video series on setting up a nursery. How to raise the prawn and then how to deliver the prawn to your customers. So if you would like a nice part time income check out our new video training page for more details.
8:40 am edt
Monday, February 28, 2011
Information on Diy Solar Water Heating
Heres some information on solar water heating. Im thinking of adding a collector tank to each panel to allow for more heating. Thinking of using old water heaters for the collectors.
Heres the website they charge for a book but it has got some really good information.
Click Here
11:34 am est
Sunday, February 27, 2011
Finished 2nd Solar Water Heating Panel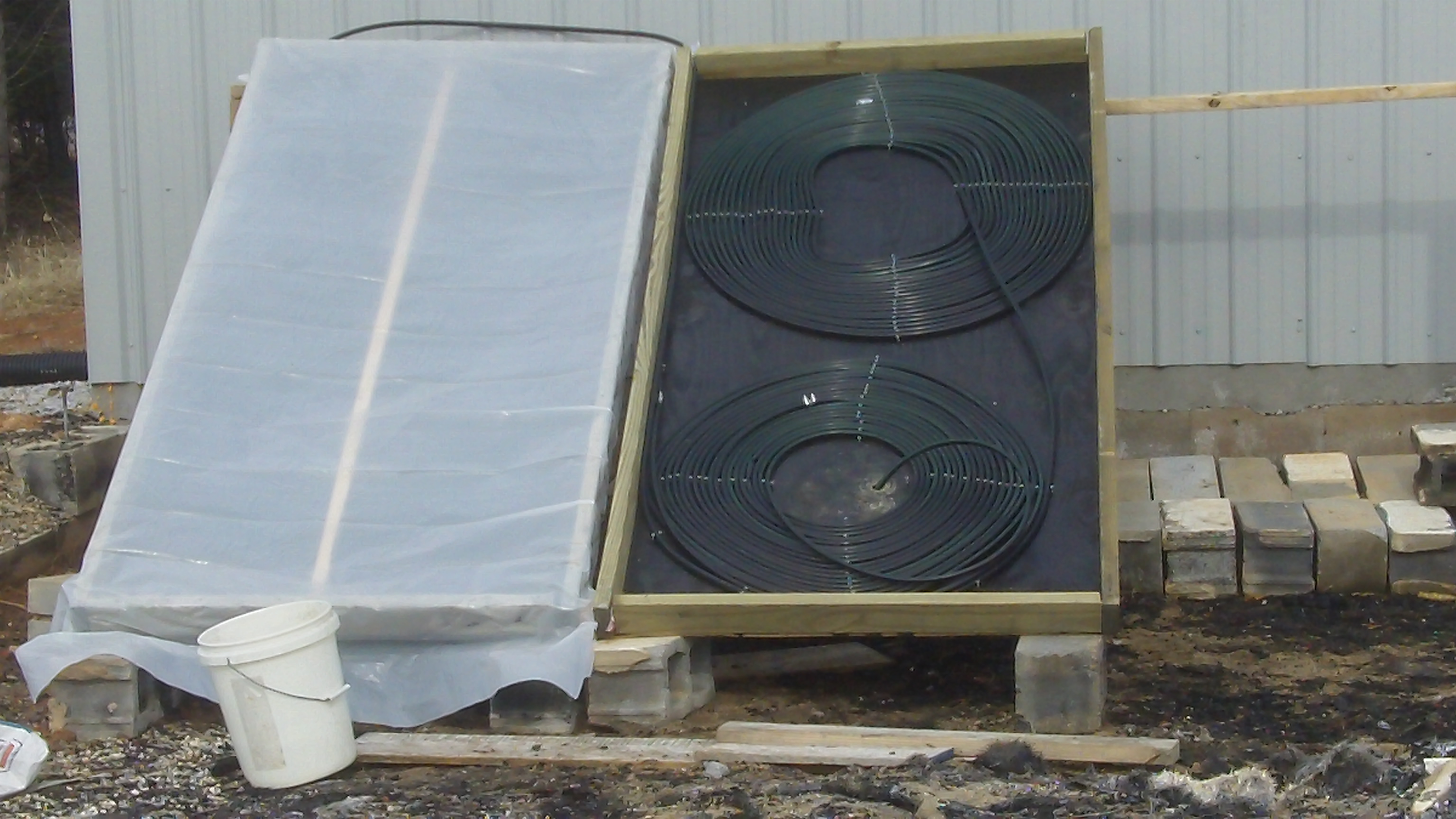 Finished 2nd solar water heating panel. Covered first water panel thinking would get a greenhouse effect but it seems to have cut off heating ability. as soon as new panel hooked up with look at difference between the 2 panels.
Finished setting up filter system and air Lifts.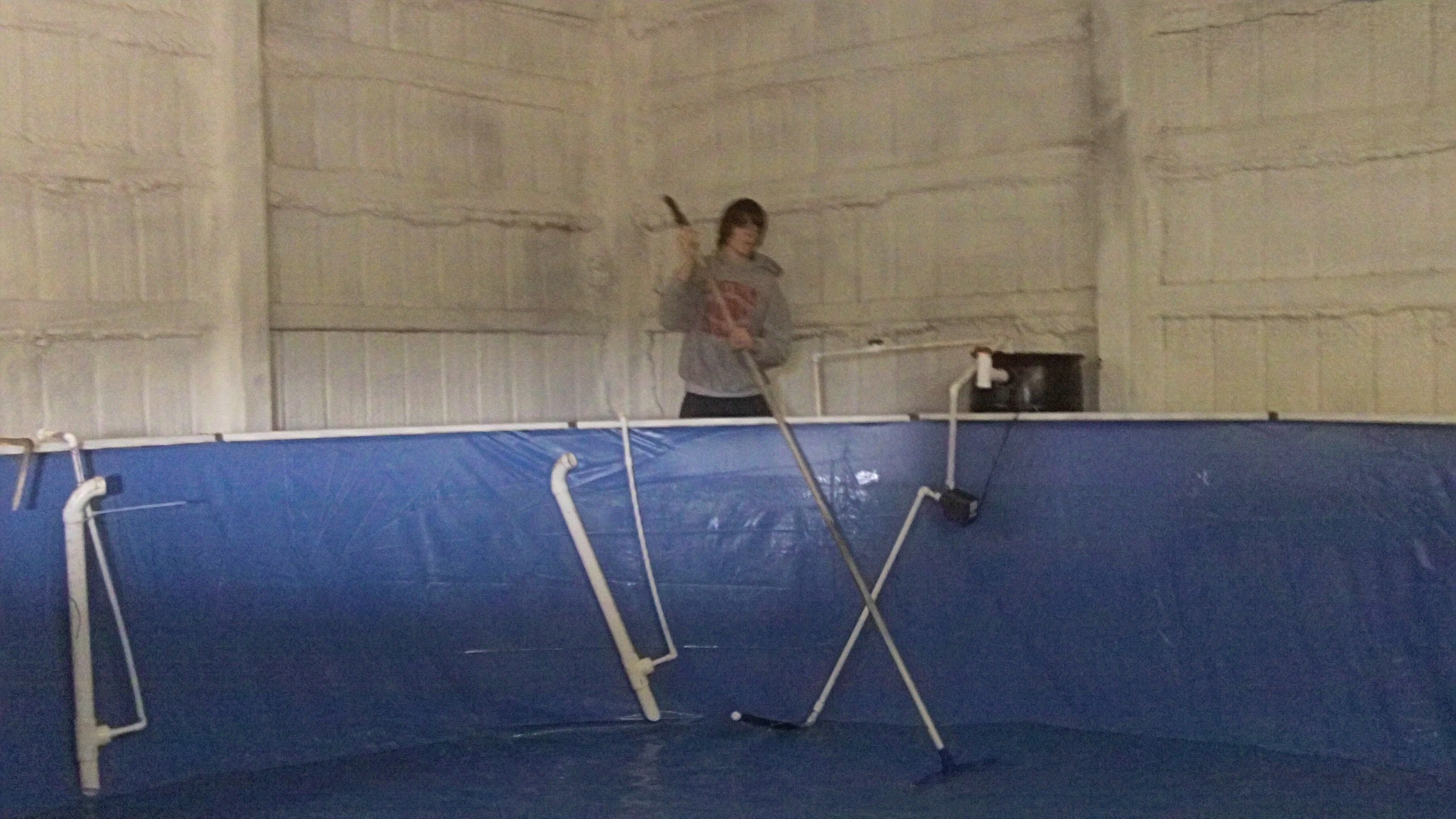 Final Tank Cleaning and Water exchange.
Dont Forget to place your Order For Prawns now.
Visit our new fanpage on facebook and please give us a like!
10:33 am est
Tuesday, February 22, 2011
Completing the Solar Hot Water Heating Panels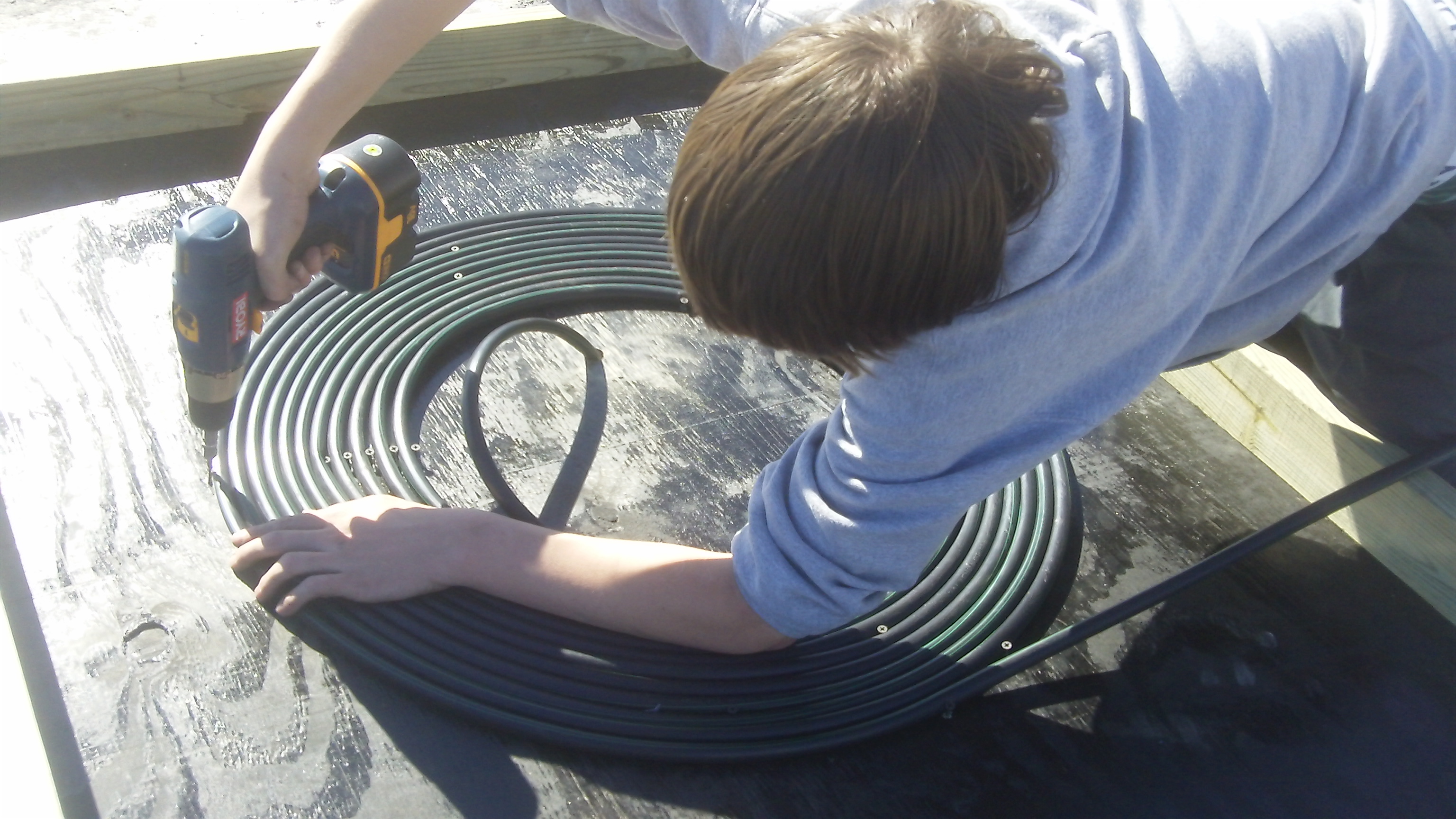 Starting the Coil we put screws next to hose to help
Hold the tubing in place.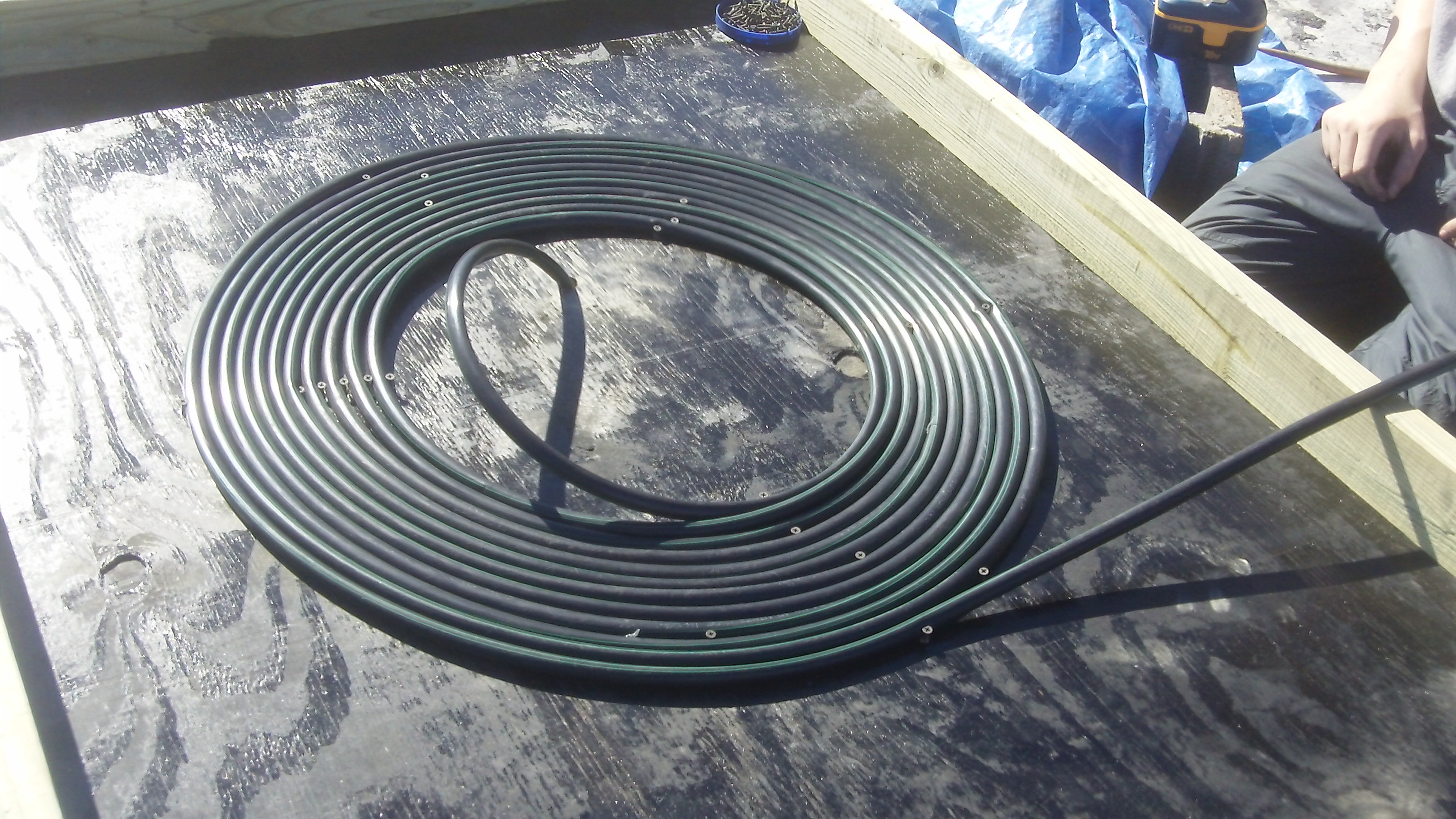 We coiled about 400 ft of hose into this panel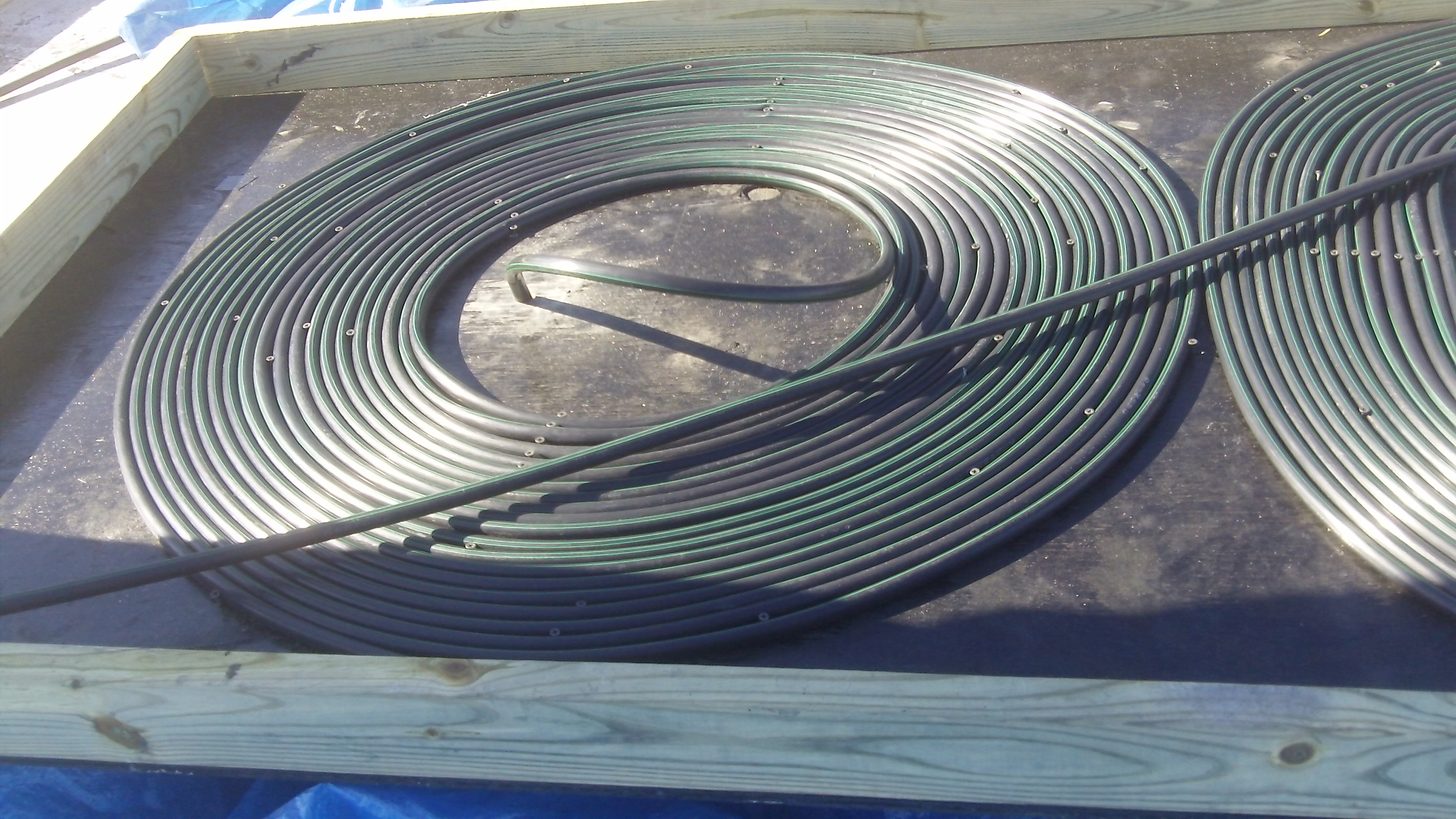 You got to be careful not to kink up hose
1st panel 2 more to go. Water temp going in was 62
water coming out was 70 after one hour.
9:24 am est
Thursday, January 20, 2011
Video Update on Shrimp Nursery Rebuild
We just posted a new video showing some of the progree we have made rebuilding the shrimp nursery. This weekend we will reinstall the filters and airlifts, Then we are goning to start building our solar water heating system. So glad you visited and thanks to everyone for thier support.
Stay tuned more stuff on the way.
8:28 pm est
Monday, December 20, 2010
Were Back
Well It's taken awhile but we are finally finishing up our repairs that were caused by the fire in april. We look forward to 2011 and helping to serve our new and past customers. Will post some pictures of our completed building soon.We appreciate all your support and wish everyone a happy holiday season.
We will begin taking orders for Juveniles in january. Please make sure to place your orders in january.
6:07 pm est
Thursday, September 2, 2010
Smell of Football and Prawn in the Air.
Soon it will be smell of paint. Beginning to get the building put back together but looking forward to some football and some Prawns. Harvest time is right around the corner most farms should begin draining ponds at the end of September. Thompson Prawn Farm in Cedar Grove ,NC will be harvesting Sept 30.2010 rain or shine so come on out and join us for some BBQ and fresh prawn. Im gonna get me some you better get you some too.
8:27 pm edt
Sunday, July 25, 2010
The prawn tanks have arrived,
Well after a month and half of work the equipment has finally be taken down and moved to its new home In North Carolina and the work has begun to the freshwater prawn facility in Virginia. Turned out to be alot of work to take the stuff apart im sure it will be even more fun to put it back together. Oh well they never said farming was easy. And certainly not aqua farming. So we will soon start to repair the Virginia recirculating tank setup so check back often or follow us on facebook or twitter.
7:25 pm edt
Sunday, June 6, 2010
Let the move Begin
Well we got really lucky and bought out an old Tilapia reseach facilitys equipment so we began tearing everything down and our moving it to our new location. We will be posting videos as we reconstruct our recirculating systems. so check back often for updates or follow us on twitter @vashrimpn.
10:42 am edt
special June pricing
Get our Ebook How to Raise Freshwater Prawn for fun and profit during the month of June for only 9.99 when you follow us on twitter, Just follow us at vashrimpn and send us an email for special pricing.
10:39 am edt
Wednesday, May 19, 2010
Picking up the pieces
Well we are slowly making progress, We moved out all the juvenile prawn we could but we suffered heavy losses. We were able to bring up enough Freshwater prawn from the hatchery in texas to satisfy just about all of farmers orders that we had. Aquaculture of texas will be able to bring up more prawn in June to fulfill any remaing orders. So email us if you need prawn. We will only have prawn for pick-up in Virginia.
7:01 pm edt